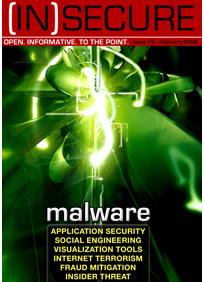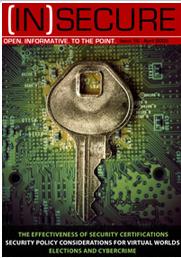 Se me había pasado comentar los 2 últimos números de esta buena revista, que además es gratuita, dedicada a la seguridad informática.
En el nº 15 trataron los siguientes temas:
Proactive analysis of malware genes holds the key to network security
Advanced social engineering and human exploitation
Free visualization tools for security analysis and network monitoring
Internet terrorist: does such a thing really exist?
Weaknesses and protection of your wireless network
Fraud mitigation and biometrics following Sarbanes-Oxley
Application security matters: deploying enterprise software securely
The insider threat: hype vs. reality
How B2B gateways affect corporate information security
Reputation attacks, a little known Internet threat
Data protection and identity management
The good, the bad and the ugly of protecting data in a retail environment
Malware experts speak: F-Secure, Sophos, Trend Micro
AND MORE!
El nº 16 tiene los siguientes temas:
Security policy considerations for virtual worlds
US political elections and cybercrime
Using packet analysis for network troubleshooting
The effectiveness of industry certifications
Is your data safe? Secure your web apps
RSA Conference 2008 / Black Hat 2008 Europe
Windows log forensics: did you cover your tracks?
Traditional vs. non-tranditional database auditing
Payment card data: know your defense options
Security risks for mobile computing on public WLANs: hotspot registration
Network event analysis with Net/FSE
Producing secure software with security enhanced software development processes
AND MORE!
Y si te perdste números anteriores, aqui tienes todo el archivo